Compatibility Information:
1. Original Models: 186-0106, 186-0200, m1174413, 2479, 186-0212, 186-0107, M105078, etc
2. Compatible Brands: GE, Philips, Mindray, Masimo, etc.
Medlinket Disposable non-invasive EEG sensor Features:
1. Reflect the excitement or inhibition state of cerebral cortex, accurately provide the detection and evaluation of EEG consciousness state, and meet clinical needs;
2. Brain electrode does not contain latex and adopts imported conductive adhesive and high-quality 3M double-sided adhesive, with low impedance and good viscosity;
3. Through biocompatibility test, there was no cytotoxicity, skin irritation and sensitization;
4. Through 7 years of clinical verification, the measurement is sensitive and the value is accurate.
5. Good compatibility, suitable for Kehui machines, and compatible with Philips, Mindray and other bis modules.
6. It has strong anti-interference ability, and the sensor has certain anti-interference ability to the electromagnetic signals of other electrical equipment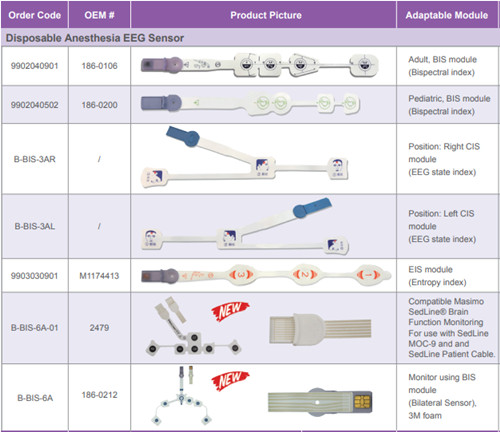 As a professional manufacturer of various quality medical sensors & cable assemblies, Med-linket is also one of the leading suppliers of Disposable non-invasive EEG sensor in China. Our factory is equipped with advanced equipment and many professionals. With complete certification, you can rest assured to buy our products made in China at reasonable price. Also, OEM / ODM customized service are also available.
If you need more information, please feel free to contact us: marketing@med-linket.com.
*Disclaimer: All the registered trademarks, product names, models, etc. shown in the above contents are owned by the original holder or the original manufacturer. This is only used to explain the compatibility of the MED-LINKET products, and nothing else! All the above information is for reference only, and should not be used as a working guide for medical institutions or related units. Otherwise, any consequences will be irrelevant to the company.
Hot Tags: bis sensor suppliers, Disposable non-invasive EEG sensor, manufacturer, factory