PETCO2 has been considered as the sixth basic vital sign in addition to body temperature, respiration, pulse, blood pressure, and arterial oxygen saturation. ASA has stipulated PETCO2 as one of the basic monitoring indicators during anesthesia. In recent years, with the development of sensor analysis, microcomputer and other technologies and multi-disciplinary interpenetration, continuous non-invasive measurement of PETCO2 using monitors has been widely used in clinics. PETCO2 and CO2 curves have special clinical significance for judging lung ventilation and blood flow changes.Therefore, PETCO2 has important application value in clinical anesthesia, cardiopulmonary cerebral resuscitation, PACU, ICU, and pre-hospital first aid.
The portable end-expiratory capnograph can provide the patient's PETCO2 value and respiratory rate, and the results are continuously displayed through numerical values ​​and waveforms. The device can quantitatively display the partial pressure of carbon dioxide at the end of the human body, and can quickly and accurately analyze and judge the patient's breathing, circulation and metabolism. Because the equipment is easy to use, light and portable, it is very suitable for monitoring the patient's physiological condition during emergency transportation. ASA has stipulated PETCO2 as one of the basic monitoring indicators during anesthesia. In 2002, ICS also adopted PETCO2 as one of the main monitoring indicators for the transport of adult critically ill patients. At present, portable PETCO2 monitoring has been used as an important means to evaluate the correct position of the catheter during pre-hospital and in-hospital emergency tracheal intubation.
 
Shenzhen Med-link Electronics Tech Co., Ltd. is a medical device high-tech enterprise with a history of more than 16 years, focusing on the field of medical cable components and sensors for a long time, collecting and transmitting life signals. Recently, another product of Medlinket has been tested by the EU CE certification body, passed the measurement of various indicators such as safety and environmental protection, and obtained the CE certification certificate issued by the EU certification body.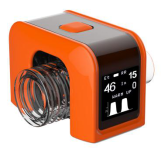 【Product Features】
Small size and light weight (only 50g); Low power consumption, 3 hours of battery life; One-key operation; Constant temperature control, effectively preventing water vapor interference; Large font display and waveform display interface; Unique carbon dioxide inhalation function; Built-in lithium battery, Waterproof IP×6.
【Application field】
 Monitor the patient's breathing during cardiopulmonary resuscitation; monitor the patient's breathing during transport; verify the placement of ET tubes.
Medlinket's miniature carbon dioxide monitor has obtained CE certification, which is a very international standard certificate. It has obtained a sales pass to enter the European Union market, marking that Medlinket's products have been recognized in the international market and are in line with the company's international development goals. This also marks that Medlinket's products have reached the requirements and standards of the EU market, and are a passport to open and enter the European market. It also provides quality assurance for product sales in the Chinese market and enhances the product's brand influence. It also improves the competitiveness of China's intelligent medical equipment market and accelerates the pace of "going out" of Chinese equipment.

Dealers and agents specializing in pre-hospital treatment and respiratory fields, please feel free to call us if you are interested! First choice Medlinket manufacturer's miniature end-tidal capnograph, cost-effective!
Shenzhen Med-link Electronics Tech Co., Ltd.
Email: marketing@med-linket.com
Direct Line: +86 755 23445360